Completely Recover All Kinds of Passwords
A complete suite of ElcomSoft password recovery tools allows corporate and government customers to unprotect disks and systems and decrypt files and documents protected with popular applications. Based on in-house tests as well as feedback from ElcomSoft valuable customers, these password recovery tools are the fastest on the market, the easiest to use and the least expensive.
Benefits
Industry certified: Microsoft Gold Certified Partner, Intel Software Partner, NVIDIA Developer Support
Broad compatibility: recovers document and system passwords to various file formats
GPU acceleration: patented technology reduces password recovery time by a factor of 50 (up to; click to see comparison chart)
Linear scalability: allows using a number of multi-core and multi-processor workstations connected over a LAN or the Internet with linear increase of recovery speed
Minimum bandwidth utilization and zero scalability overhead
Flexible queue control and easy job management
Remote management of password recovery workstations
Completely traceable: keeps track of CPU time and resource utilization, password recovery jobs and user activities
Revolutionary Inventions
ElcomSoft has pioneered many software innovations that have made it easier to recover lost passwords from the operating system, Microsoft Office products, Adobe PDF files, ZIP and RAR archives, and a variety of other applications. The latest development revolutionizes the speed of password recovery without requiring expensive hardware.
Certain ElcomSoft password recovery applications employ a revolutionary, patented technology to accelerate password recovery when a compatible NVIDIA graphics card is present in addition to the CPU-only mode. Currently supporting all GPGPU-capable NVIDIA and AMD boards, the GPU acceleration technology offloads parts of computational-heavy processing onto the fast and highly scalable processors featured in the NVIDIA's latest graphic accelerators.
Fifty Times Faster than Competitors
The GPU acceleration is patented (U.S. Pat. No. 7,787,629 and 7,929,707) and unique to ElcomSoft password recovery products, making password recovery up to 50 times faster compared to traditional password recovery methods that only use the computer's main CPU.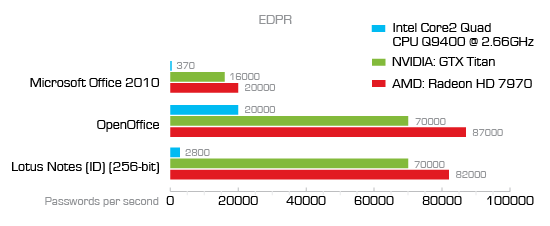 High Technology
Elcomsoft Password Recovery Bundle allows corporate customers, IT support administrators, forensic and law enforcement officials to gain access to various password-protected documents. The password recovery suite features the latest and most advanced cryptanalysis algorithms developed by ElcomSoft Research department.
Instant Unlock and Password Recovery
Elcomsoft Password Recovery Bundle is capable of instantly recovering passwords for a wide range of business and office applications, text processors, spreadsheets, database management programs, office suites, email clients, instant messengers, etc. Over a hundred different file formats and types of password encryption methods can be recovered instantly.
Broad Compatibility
Recover passwords to a variety of office documents, archives, encrypting file systems, Windows and email accounts, and remove many more types of password protection.
Competitive Pricing
Elcomsoft Password Recovery Bundle is priced competitively as compared to ordering ElcomSoft products separately. Volume discounts are available. The Competitive Upgrade policy makes it possible to obtain Elcomsoft Password Recovery Bundle as an upgrade of a competitive password recovery suite (contact us for detailed information).
Your order includes one year of free technical support and one year of free upgrades.
Ordering information
You can order fully registered version of Password Recovery Bundle by credit card (online or by fax), with check/money order, by bank/write transfer or with purchase order. We offer three editons of the bundle: Standard, Forensic and Business, with the different number of licenses for individual password recovery programs included, and different licenses on Proactive Password Auditor and Elcomsoft Distributed Password Recovery.
We accept Visa, MasterCard, American Express, Diners Club, and JCB. When you pay by credit card, your order will be processed immediately. Postal mail shipments are initiated immediately. Products available electronically are generally ready for download immediately, or no more than 48 hours after you place your order.
Using the online order form, you can also order the software with Solo/Switch/Maestro (only if issued in UK), by Bank/Wire Transfer, Online wire transfer (applicable only for orders placed within Germany in Euro), by Check (we accept all personal, business, and Cashier's checks) or Cash.
Online orders are processed automatically and therefore more quickly than orders placed by fax, e-mail, or phone, because processing is not dependent on our customer service center's business hours. But alternatively, you can order with Purchase Order.
Compatibility Chart