Accelerated MD5 Password Recovery

Recover original passwords from MD5 hashes lightning fast. Lightning Hash Cracker is a free MD5 recovery tool featuring ElcomSoft's newest acceleration technologies. Lightning Hash Cracker utilizes NVIDIA GPU acceleration to reverse hundreds of thousands of MD5 hashes at once as fast as a single one with almost no overhead. Process the entire list of passwords and obtain the first password in just minutes! Using one or many video cards, Lightning Hash Cracker offers by far the fastest MD5 hash recovery, and is the most technologically advanced free MD5 recovery product currently available on the market.
Features and Benefits
NVIDIA GPU acceleration (NVIDIA GeForce 8, GeForce 9, GeForce 100, GeForce 200, GeForce 400, Quadro, Tesla) reduces password recovery time by a factor of 20
Multiple GPU support with linear scalability
Processes hundreds of thousands of MD5 hashes simultaneously as fast as a single one
Allows utilizing one or all GPUs among the available ones
Recovers multiple MD5 hashes at once with almost no scalability overhead
Password customization allow selecting password length, character set, and starting password
Interrupt, pause or resume password recovery at any time
NVIDIA GPU Acceleration
Lightning Hash Cracker is the first free MD5 password recovery tool on the market to employ a revolutionary, patent pending technology to accelerate MD5 hash recovery when one or more compatible NVIDIA graphics card are present. Currently supporting configurations with single and multiple GeForce boards, the acceleration technology offloads parts of computational-heavy processing onto the fast and highly scalable processors featured in the NVIDIA's latest graphic accelerators. Simply hook up an inexpensive video card (GeForce 8, GeForce 9, GeForce 100, GeForce 200, GeForce 400, Quadro or Tesla) to speed up the recovery by a factor of twenty, or use several cards to for even faster MD5 hash recovery!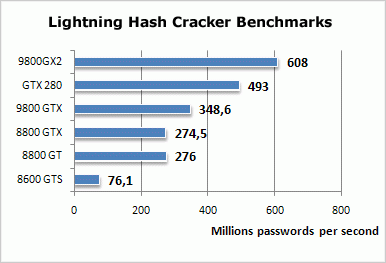 The acceleration technology developed by ElcomSoft allows processing hundreds of thousands of MD5 hashes simultaneously on the massively parallel computational elements found in latest NVIDIA graphic accelerators with practically no scalability overhead. The patent-pending GPU acceleration technology makes MD5 reversal up to twenty times faster compared to CPU-based hash recovery methods.
Linear Scalability
Lightning Hash Cracker offers linear scalability, and can process hundreds of thousands of MD5 hashes at the same time. By doubling the number of video cards working on MD5 hashes, you can cut the time required to recover the original passwords by half.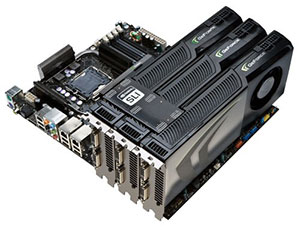 Need More Features?
Check out Elcomsoft Distributed Password Recovery. High-performance distributed password recovery for forensic and government agencies, password recovery and data recovery services and corporations. Recover the most complex passwords and strong encryption keys in realistic timeframes. Accelerate the recovery by offloading calculations to NVIDIA GPUs and scale to over 10,000 workstations with zero scalability overhead. Restore access and break passwords that lock a variety of documents, archives and systems. Elcomsoft Distributed Password Recovery supports Microsoft Office documents, Adobe PDF, PGP disks and archives, personal security certificates and exchange keys, MD5 hashes and Oracle passwords, Windows and UNIX login and domain passwords. It uses NVIDIA GPUs to significantly accelerate recovery of MD5, Windows (LM and NTLM), Office 2007/2010 passwords and more. Learn more about Distributed Password Recovery, download free trial version, or purchase full version.